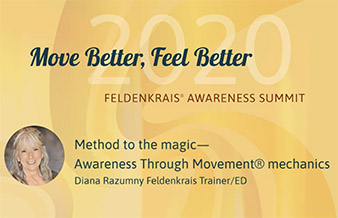 The Move Better, Feel Better: Feldenkrais Awareness Summit is coming May 1-May 10! This has been an exhilarating event in the past two years, and you won't want to miss registering for this online conference.
Not only does the Move Better, Feel Better: Feldenkrais® Awareness Summit include incredibly diverse topics; it is FREE for the first 48 hours after each talk.
As an example, please enjoy an excerpt from my own Summit session via the video above: Method to the magic – Awareness Through Movement® mechanics. 
There are 9 tracks total: While Aging, Embodied Anatomy, Sports, Fitness, Physical Challenges, Essential Feldenkrais, Physiology meets Spirituality, Emotional Intelligence, and Somatics at Large. There are three potent speakers in each track.
Click on this link to read all the details and register free:
29 Interviews on 29 different topics
9 panel discussions
19 Awareness Through Movement® lessons
While registration is free, there will be an option to upgrade for an All Access Pass if you want to listen to all 56 presentations at your leisure. Full disclosure: If you do upgrade at some point in the future, I may receive compensation for that upgrade, but that isn't why I recommend it. I recommend it because it is truly some of the best free learning you can get.